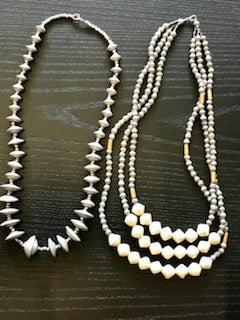 The Fedha Necklace
Fedha means silver in Swahali. Wow! Look at this silver necklace made of paper. The artisan ladies are so proud of finding this silver wrapping paper to make these necklaces.
You can accompany all your silver bracelets with this necklace and be dressed to the "nines" and know you have chosen an "ethical fashion.
Necklace is about 22" long with diameter ascended to one inch. Hug it!
(necklace is on the left; new single picture coming)
---
We Also Recommend
---